Our custom cabinetry is truly bespoke – every piece is individually designed and handcrafted.
If you are a historic homeowner, period style cabinets are designed and built to blend right in with the original style of your house. And they will have all the modern features inside.
If you own a newer home, our custom cabinets will bring a timeless character and substance! Why use veneered products when you can have SOLID wood doors that will last practically forever?
We specialize in true inset cabinetry.  These offer a clear advantage in that they open all the way.  The hinges will not weaken over time either.  Not to mention the added beauty of a well fitted inset door. Real solid wood and hand craftsmanship are what make our products so special. We utilize sustainable, locally harvested wood from Michigan for all of our handmade Amish furniture & custom cabinetry. For kitchen cabinets and some pieces of furniture (at customer request), we also use high-quality veneered plywood for interior sides that are not exposed.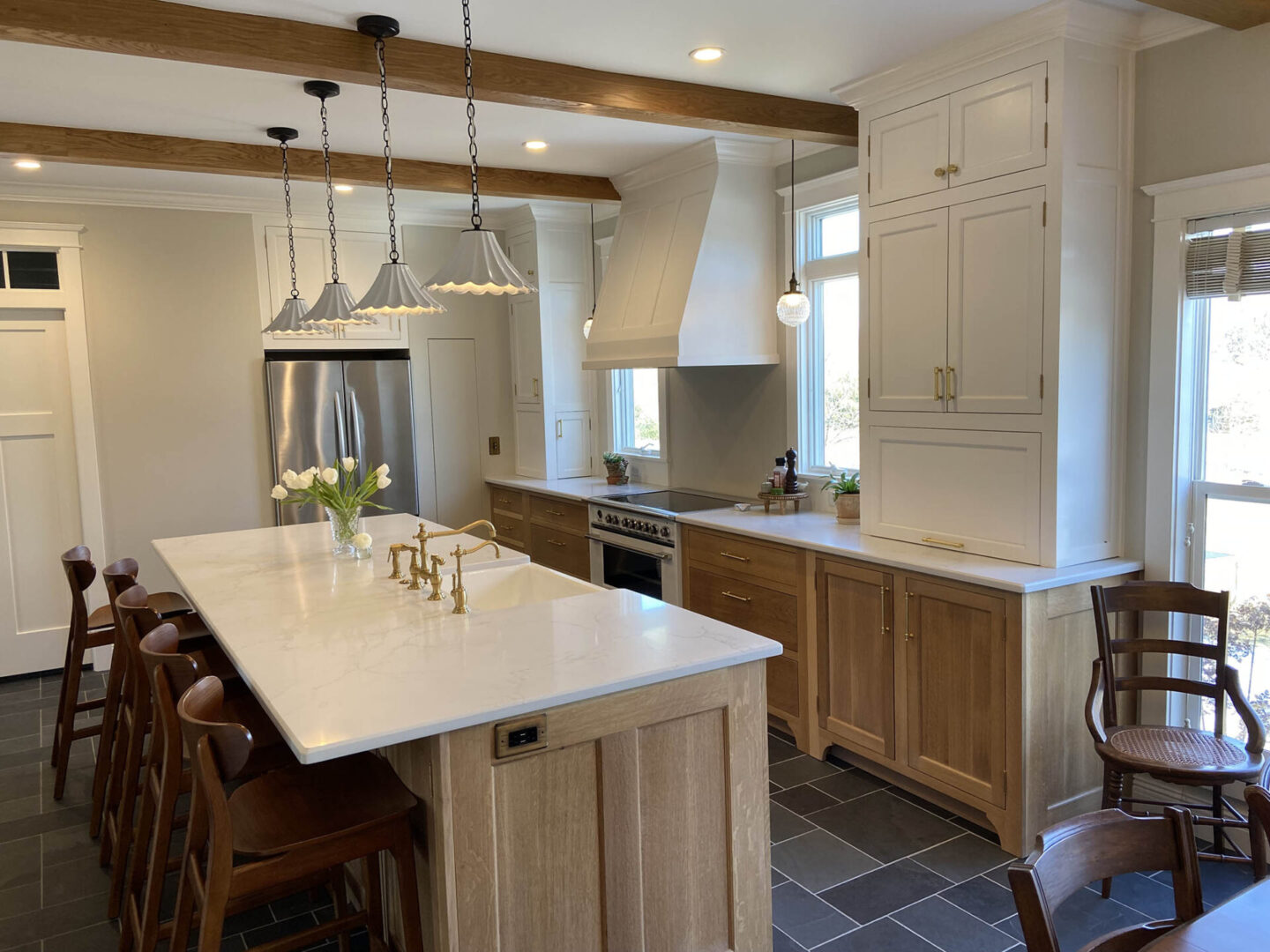 Painted Kitchen Cabinetry
Quartersawn White Oak Cabinetry
Our Unique Kitchens Feature:
We typically apply a hand-rubbed natural Tung oil finish to our pieces so that the natural beauty of the wood remains. Over time, a rich, warm patina can develop. The oil finish consists of 4 coats (sanded between coats) followed by a coat of beeswax. We use oil because it penetrates the wood and is water resistant. However, it does take a few months for the oil to cure fully. While oil is not initially as water resistant as Polyurethane, it will never discolor, scratch, peel, or chip. And an oil finish will never have to be stripped. You can refresh any piece by applying a little oil with a cloth rag.
We offer Polyurethane as an option, however, if you feel strongly that this is what you need. Polyurethane is a finish that coats the outside of the wood and provides protection from water. Custom stains are also available upon request. We also offer custom oil finishes for chemically sensitive people.
Our Painted cabinetry consists of a spray primer and two coats of paint finish followed by a hand-brushed final coat. Brush painting allows the possibility to spot touch up the paint at any time. For Period cabinetry, hand brushing is historically appropriate.